How hot is it in the West? Let us count the ways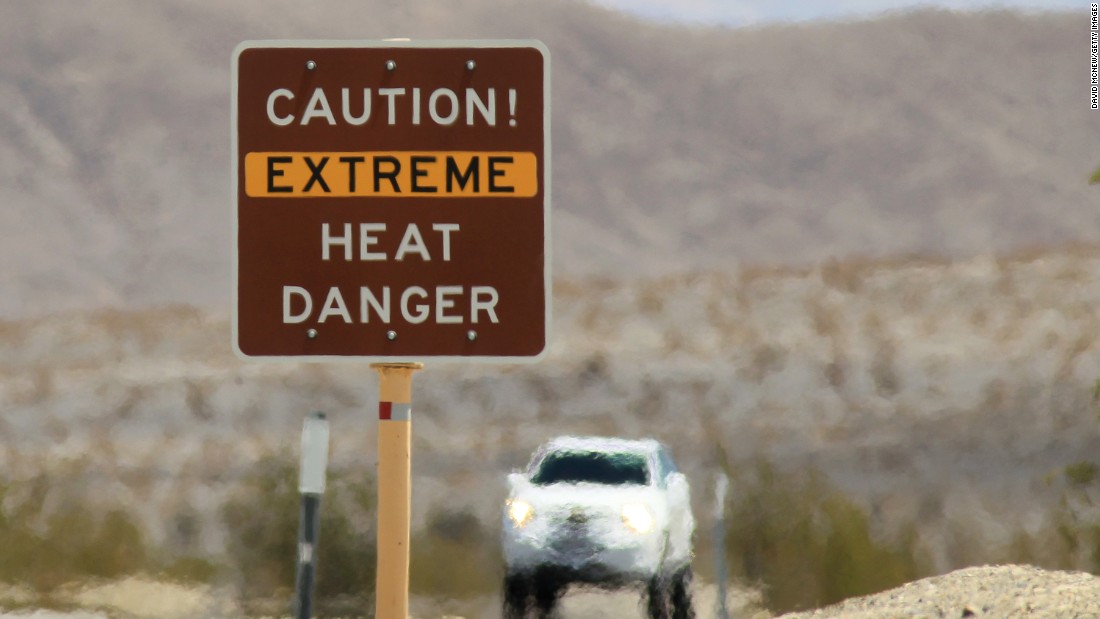 San Francisco, California (CNN)It's so hot in the West that the scorching heat is breaking records, causing massive power outages and prompting flight cancellations.
The peak may be coming Tuesday as
Phoenix is expected
to hit a high of 119 degrees Fahrenheit and
Death Valley, California,
could be all too fitting for its name, as the National Weather Service forecasts a high of 127 degrees.
Las Vegas
could also see peaks on Tuesday and Wednesday. The city could gamble with its highest temperature ever observed, which was 117 degrees Fahrenheit in 2013.
Excessive heat warnings have been issued for inland California, southern Nevada and parts of southwest Arizona until Friday. More than 29 million residents in California are under a heat warning or advisory.
Here's how the sweltering heat wave is affecting the West:
1. Some planes can't fly
The heat wave was already affecting travel in Phoenix, where the temperature reached 118 degrees on Monday.
American Airlines canceled 50 flights to and from Phoenix Sky Harbor Airport due to "extreme heat," the airline said.
Somesmaller regional jets may not take off in temperatures in excess of 117 degrees, it said in a press statement.
Extreme heat can also affect planes, because the hotter it is, the thinner the air gets. This means that planes need more speed to take off and thus, require more runway. American Airlines said that Sky Harbor's runways are able to accommodate planes taking off in hot weather.
2. Heat records are being shattered
— In Phoenix, the 118 degrees on Monday tied the record set exactly a year ago.
— On Sunday, several Northern California cities — including Sacramento (106 degrees), San Jose (103 degrees) and San Francisco (88 degrees) — saw record hot temperatures.
— The record-breaking streak continued Monday with Sacramento hitting 107 degrees, breaking its 106 degrees record from 1988. It could get even hotter on Wednesday with a forecast temperature of 109 degrees.
— On Monday, Stockton, California, saw a record high of 109 degrees and Lancaster in southern part of the state had 110 degrees.
3. Wildfires are burning
Firefighters across California are battling several fires including one near Big Bear spreading to 850 acres and a grass fire in Sacramento that broke out during Monday's evening commute.
Cal Fire warned of high fire danger with hot and dry conditions.
4. Power is being knocked out
Power outages have been reported in California's central valley, the Bay Area and parts of Southern California during the last few days.
As temperatures increase, more people use air conditioners, which uses a lot of electricity and can strain the power system.
5. Roads buckle under the heat
The heat could've been a factor as four lanes of Highway 50 in West Sacramento began to buckle on Sunday. Drivers reported the giant cracks forming on the road and the lanes were repaired,
reported CNN affiliate KGO.
How to beat the heat
If you can't avoid being outside and staying close to air conditioning, here's some ways to beat the heat:
— Never leave your car locked or unattended without checking for pets and children inside.
— Hydrate with water, avoiding sugary drinks and alcohol.
— Wear light-colored clothing, which can keep your body temperature down several degrees.
— Wear sunscreen SPF 15 or higher to protect your skin from harmful UV rays.
— Don't forget to check on neighbors, friends and family, especially the young or elderly, who are at more risk of heath damage from excessive heat.
Read more: http://www.cnn.com/2017/06/20/us/weather-west-heat-wave/index.html